The Teak wood
Teak, the species.
Botanical name: Tectona Grandis.
Origin: Southeast Asia.
Although called Indochina Teak, this wood is endemic to India, Laos, Malaysia, and Thailand. Nowadays, grow in all tropical and sub-tropical areas as plantation plans.
Used since antiquity (Teak beams were found as a structural element along the Roman road in India), in Europe, it will experience its first success at the end of the 17th century in the construction of sailboats.
Nowadays, Teak is still the wood of choice for the shipbuilding of yachts and luxury sailboats, whether for decks or other exterior elements such as the railing.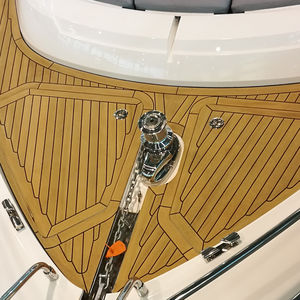 Until a few years ago, Teak was considered a semi-precious wood, but with soaring demand, its price has reached that of precious woods.
This wood offers remarkable resistance outdoors, and apart from the sapwood, the xylophagous insects do not attack it.
Teak has a hollow structure reminiscent of Oak but does not have a preponderant flake.
Its color ranges from golden honey, for the lighter ones, to caramel brown.
Quarter-cut Teak veneers.
Crown-cut Teak veneers.
In general, an elegant black veining characterizes this wood; however, it happens that from time to time, a piece is without veining and of a light color; we will then speak of blond teak, which is a rarity in veneers.
Blond Teak veneers.
Indeed, to allow a smooth slicing, teak logs are cooked to soften the wood fiber, which brings these black veins. As teak timbers are sawn raw, lumbers are less prone to veining.
Teak is an oily wood species and should be degreased with acetone to allow a strong gluing and a good finish.
Teak veneer headphone by Christophe.